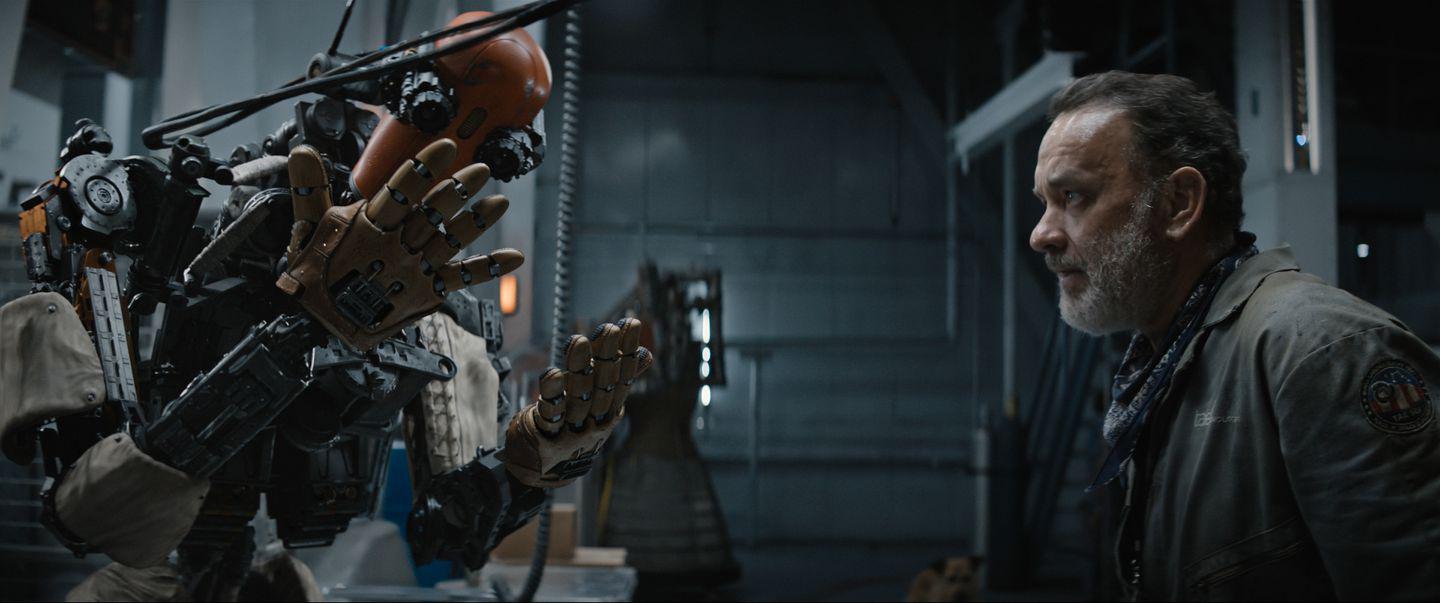 Can a Dog, a Robot, and a Man Make a Movie Look Good? Meet "Finch"!
The modern movie industry is a minefield for alternative projects. The story created by Craig Luck and Ivor Powell and directed by Miguel Sapochnik is by no means a regular one. Tom Hanks is a brilliant actor that does know how to talk to a volleyball ("Cast Away") so persuasively that you just sit and wait when that round thing talks back. It wasn't hard for him to do the same trick with a dog and two robots – these "dialogs" look very natural and never stupid. Yes, they might look weird at first, but when the story goes farther, you realize that talking to a robot isn't such a bad idea.
Wasted world. No, not by a war or any other human-made catastrophe. The Sun, our dearest friend and the source of life on Earth, kills it without mercy. A solar flare destroys the ozone layer and bye-bye crops, trees, and all the food along with water. Not a new thing to us in movies, but it is a scary, really terrifying scenario that can happen without a warning and, most importantly, a chance to survive. The hope is lost and we can't do a thing about it. Almost a thing.
Finch Weinberg – An Employee of the Decade
Finch is an engineer who happened to escape death more than 15 years ago, when the world burned in flames of solar flare, mistrust, and inhumanity. An introverted man with tools and knowledge in a high-tech bunker – what can stop Finch from creating an intelligent robot to take care of the dog after his death? Goodyear here (the dog) is not just a pet rescued by Finch in the crucial moment of his life. It is the symbol of life, embodiment of hope for a person slowly dying because of radiation exposure.
The survivors scare Finch much more than the Sun and lack of resources. Unknowns of the night are his worst enemy. Radiation is his torturer and muse that motivates to move forward and finish Jeff (self-name of the robot). If it weren't for the 40-days superstorm on the porch of his bunker, what else Finch would have created? A starship to fly away and seek help from his disease? We'll never know but the ease of making such an intelligent thing impresses.
Jeff – The Best Robot in Movies So Far
Jeff, portrayed by Caleb Landry Jones, is probably the best character in the movie, as he is unique. No, robots with AI are not new in movies, but this one is a masterpiece. Brilliantly designed, Jeff looks like a 5-year-old with the strength of Captain America. He ain't that anthropomorphic as most androids are, so he shouldn't evoke so much compassion, but Jeff does! When Finch yells at him in one of the scenes, the heart breaks. "Short Circuit" is, probably, the move to be named where similar feelings were in place. A genius move, bravo.
A Perfect Road Trip. In a Post-Apocalypse World
What do we usually need for a perfect road trip movie? A bunch of friends, a vehicle, landscapes, and lots of funny stories along the way. What do we have in "Finch"?
Friends – a tired badly sick man in his 60s, a dog and two robots. Well, okay, they'll do, whatever weird it may look.
A vehicle – a heavily-tuned RV, hefty wheels and a solar panel on top of it. Neatly done, can handle any apocalypse. (No, it can't).
Landscapes – tons of sand and wasted buildings, devastated stores and empty gas stations. Fantastic start, let's see what happens.
Funny stories – awkward man-robot dialogues, tears, one not too tense chase, few words about the fate of Earth, Finch's death, and the Golden Gate Bridge. That will do, a bit of a mish-mash story, but okay, that's more interesting than plenty of movies about superheroes are.
"Finch" Can Make You Cry. Or Regret About Two Hours of Wasted Time
Is it worth watching? Well, it depends. If you want to witness another piece of great actorship from Tom Hanks, then definitely yes. If you love dogs so much that you would create a robot for your pet to replace you when time comes, then watch it and cry.
But if you want to see something spectacularly interesting, something that fascinates you till the very end and has a meaning, then "Finch" can be a disappointment.
The movie ends with 'to be continued' since Jeff sees the note from seemingly decent survivors, so there is a chance for Goodyear to live with real people. Finch, though, kept the promise he made to himself, obviously. Well, we've all seen Hanks crying, suffering and dying, should we do it again?
FINCH Bande Annonce (2021)